Your companion on the way to a digital, sustainable future
Sustainable Materials Solutions
We partner with the best manufacturers looking for sustainable materials solutions to get their products in front of more specifiers designing for a transparent and net-zero world.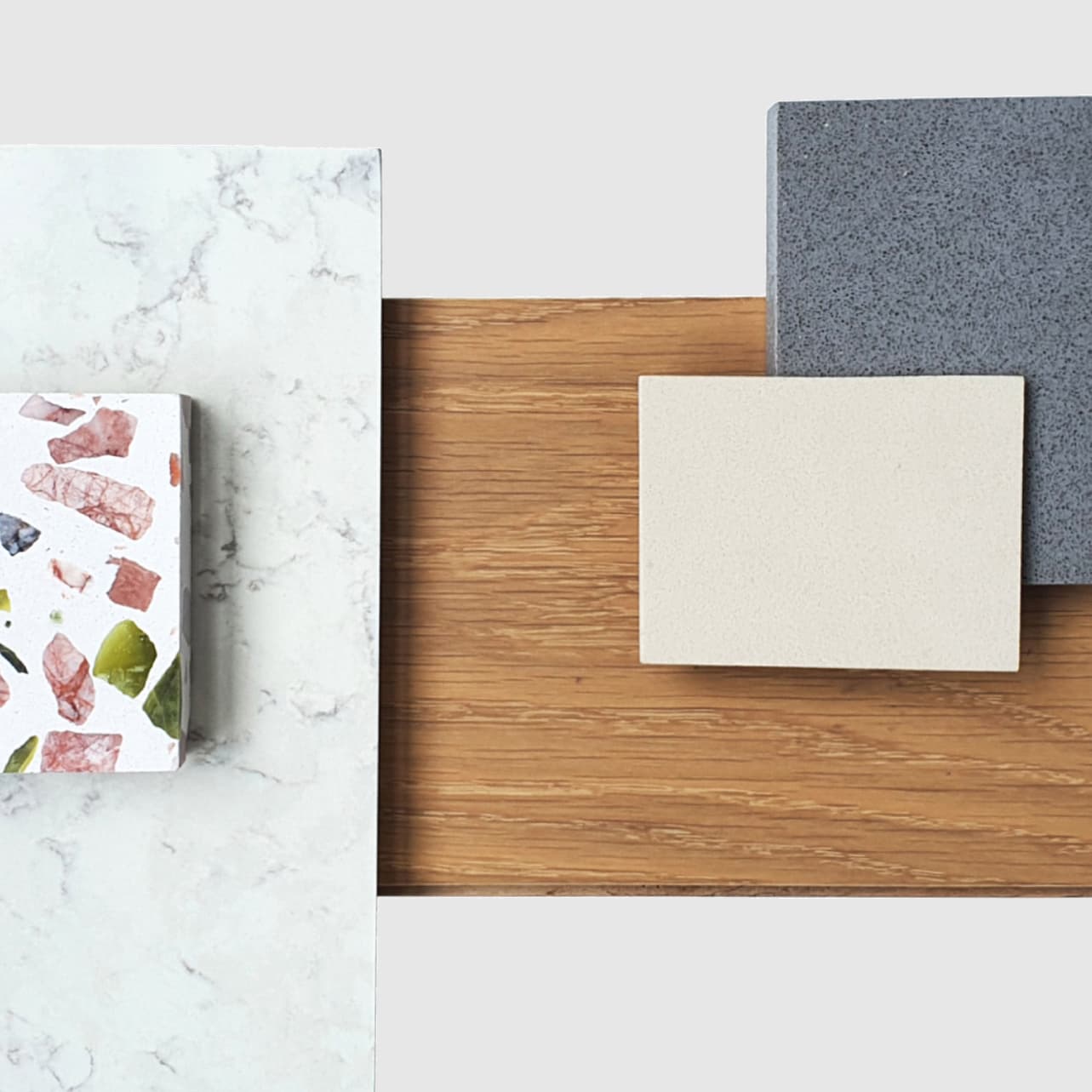 Join these brands in communicating transparency to your clients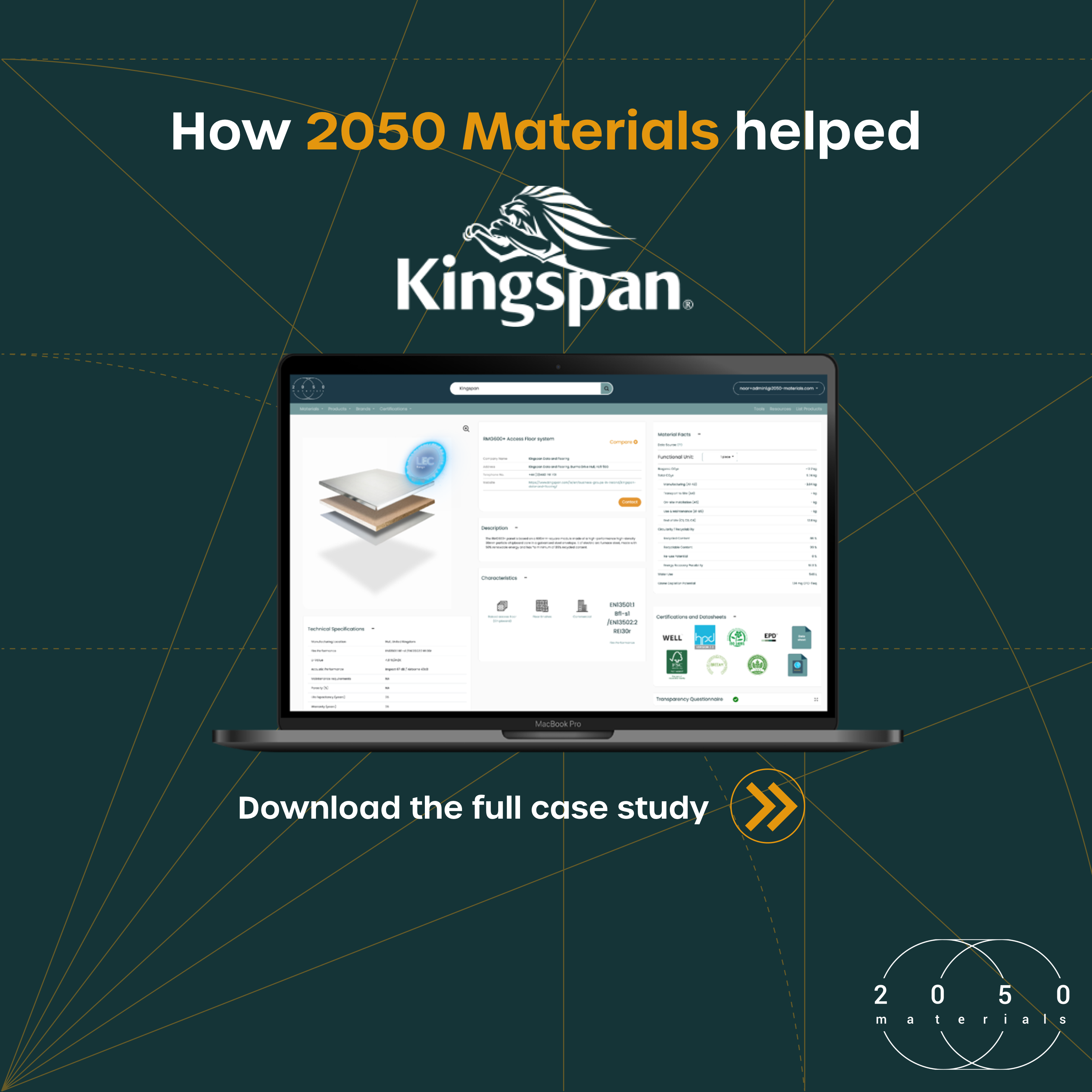 Visual, Informative, Comprehensive!
Download the case study: Kingspan Data & Flooring and 2050 Materials
The future
Making informed decisions about what product to specify has never been more complex.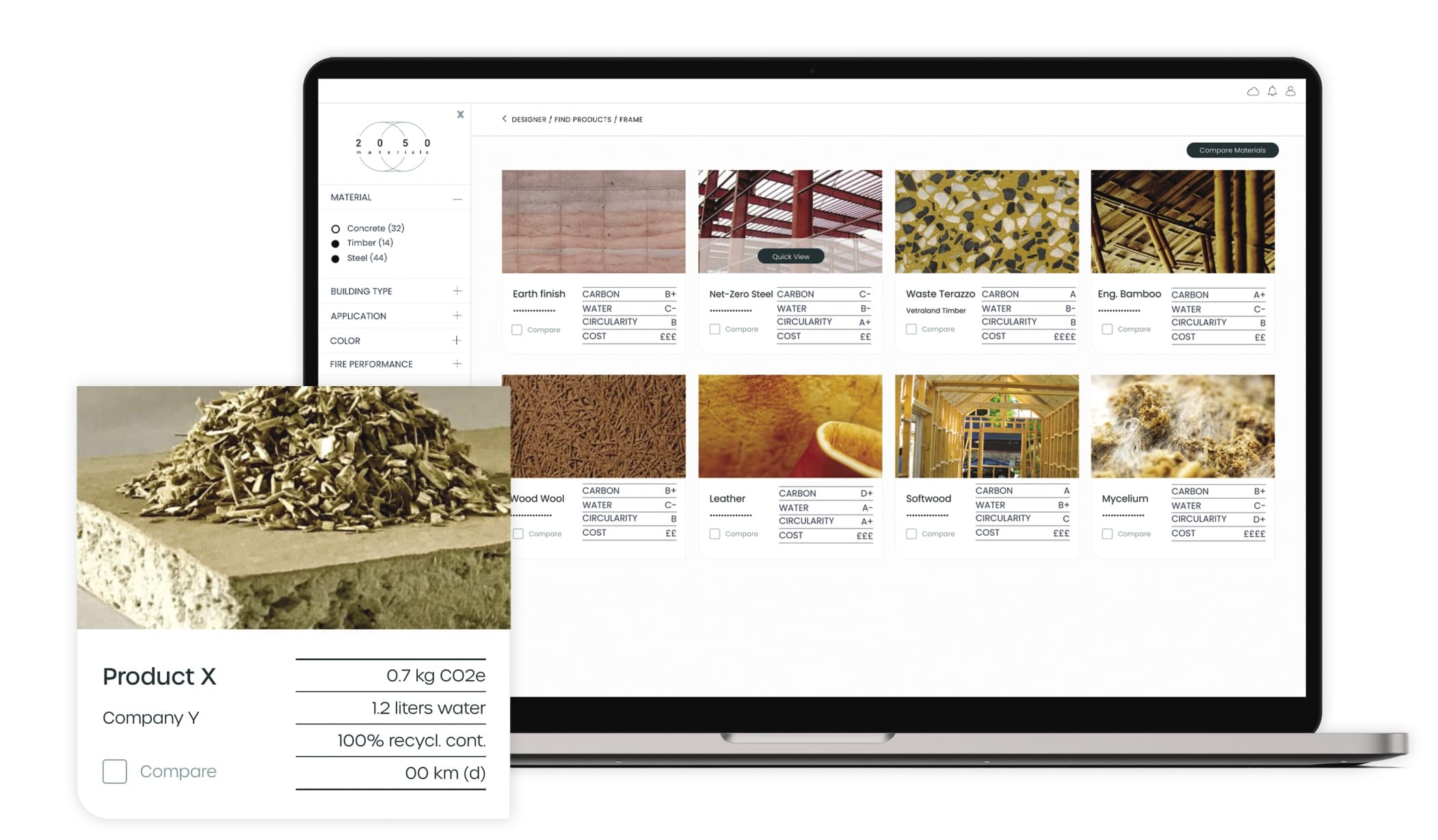 The market needs are shifting.

New regulations are on the way.

Data complexity is increasing.

Transparency and convenience is key.
As the world is transitioning to a net-zero future, manufacturers can embrace the change and align their product data with the processes of net-zero construction.

The benefits
We partner with the best manufacturers to get their products in front of more specifiers.
community of sustainable specifiers
Get your products in front of a community of sustainable specifiers
Connect and engage
Connect and engage with specifiers to close sales
Market insights
Get unique market insights to truly understand customer needs
Sustainability Checklist
Ensure your products are compliant for specification in high-impact projects
Account set up
Quickly set up your account with 2050 Materials doing the leg-work
Brand building
Build your brand through transparency marketing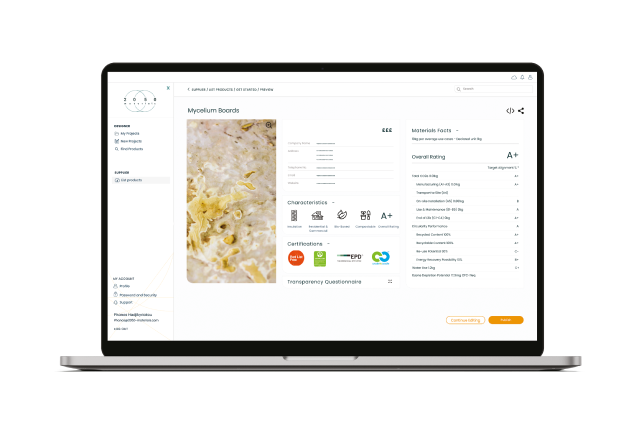 How we can help
Access tools to engage with your customers like never before.
Transform technical data into communication tools.
Maximise convenience through branded sustainability portals.
Engage with users to understand their needs.
Ensure visibility in target tracking tools.
Our services
Join us to transform how your customers find, justify, and specify your products.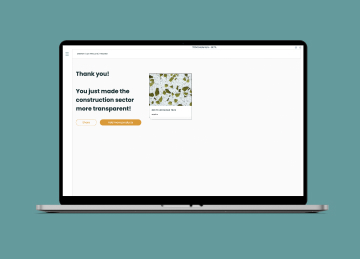 Listing your products
Join the biggest digital catalog focused on transparency and sustainability.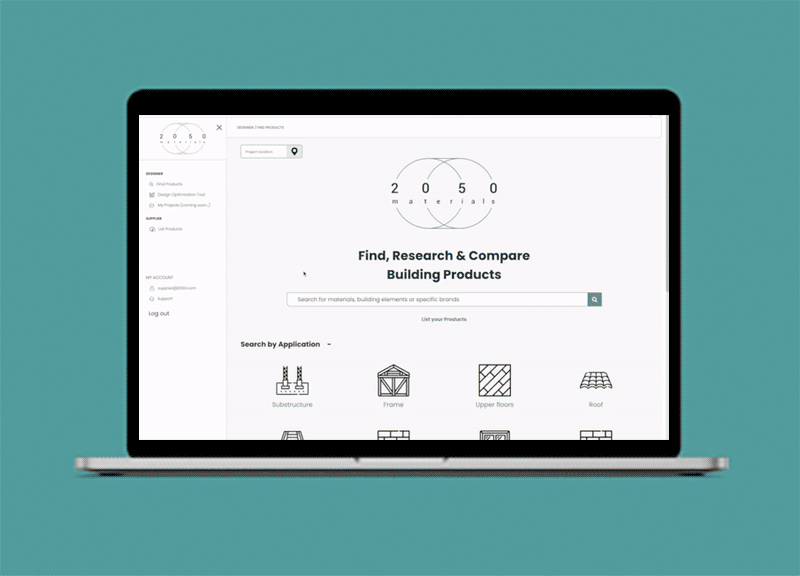 Personalised portal
Transform your brand by centralising data in a branded sustainability portal.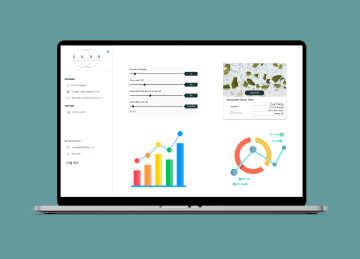 Analytics
Get unprecedented insights on who is looking at your products and why.
"2050 Materials are doing a fantastic job of compiling easy to use, easy to compare, directories of building materials. We are proud to have worked with 2050 since their launch and we are excited about where this platform can go."
"We are pleased to support the 2050 website to communicate the importance of data transparency in the construction industry and showcase our sustainable solutions for readymix concrete. The team have been easy to work with to set up the information in regards to our products and are keen to support us in communicating our solutions that are helping specifiers build using less carbon and build more with less."
"2050 Materials is a great platform to house all of our product information in one place. This gives our customers a readily accessible way to find the information they need for their projects. Investing in and creating material passports has proven very useful when demonstrating our product information such as embodied carbon, recycled content and product constituents in an easy and digestible format for our customers."
"Muratto is delighted to have been a part of this project from the start, because 2050 Materials shares Muratto's aim of working for a more sustainable future. Furthermore, it has provided a significant boost to our brand."
"Being present on 2050 Materials is one way for us to show our products to key specifiers and be completely transparent with them by sharing our technical and environmental data of our ranges and as a company. 2050 Materials democratises the access to sustainable specifications materials and we, at Dickson, wanted to be part of this great opportunity to help architects and designers for their designs and specifications to be in line with the climate emergency."
"The transparency of ecological data is essential for zirkulit® products. 2050 Materials helps us to convey the ecological advantages of zirkulit® concrete to a wide range of professionals and people interested in the construction industry."
"Graphenstone Paints are delighted to be involved and listed with 2050 Materials. We believe their disciplined, thorough and holistic approach to the products listed, is key to providing relevant, accessible and accurate data for all Specifiers using the platform. It's never been more important to participate in services like 2050 Materials, at this time of urgent ecological need. This is especially valid for the Built Environment, which is so materials hungry and often both toxic and wasteful. Keep up the great work all at 2050 Materials!"
"Finally! A user friendly, easy to use tool that shows the impact of building materials on the built environment. The industry has been starving for a nutrition facts label for products that gives specifiers and designers an easy way to compare products, and 2050 Materials created this benchmark. We opted into 2050 Materials early on with several of our brands because we knew the end game is environmental impact and how much carbon, water and natural resources are being used to make a building or community. It is the first tool that lets you look at product options side by side and make a choice that meets your aesthetic and environmental needs."
Fair pricing
Get access to a global network of specifiers and generate new leads in high-impact projects.
Studios specifying on 2050 Materials